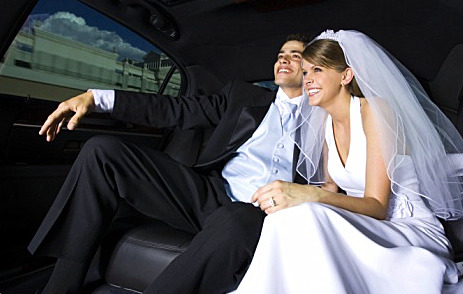 Your wedding day should be as special as possible. This may mean having relatives come in from very far away or having a destination wedding. Of course, any wedding day, even the most extravagant, would be even more special when the bride and groom arrive to the wedding and/or the reception in style by arriving in a limousine from Knoxville Limousine Service. To help couples decide if a limo is right for their wedding, we now offer great Wedding Specials for your special day.
Amenities
All of our Wedding Packages come with the amenities that are standard with any limo rental service. These include:
• Television
• Wet bar
• Complimentary bottled water and soda
• DVD player
• Passenger controlled heating and AC
• Privacy screens
• Comfortable, roomy seating
Of course, our Wedding Specials also come with the bride and groom's choice of:
• Red carpet service – Step out of your limo and up to the doorway of your destination like Hollywood royalty by walking along the red carpet the chauffeur will roll out just for you.